 
Trinity knot - Bronze Earrings
Bronze hook Earrings, bronze Trinity knot pendant
Bronze hook Earrings, bronze Trinity knot pendant
Earring type: hook
Length: 17 mm (distance between the hole of the ear and that of the pendant)
Material: plated alloy
Color: Bronze
Mid-length, the hook loops adapt to any type of face and hairstyle and combine with pendants of all sizes.
For your comfort and safety, La Blanche Hermine offers you a pair of rubber stopper tips.

Pattern: Trinity knot
Material: alloy
Size: 14x17 mm
Pattern color: bronze
The knot of the trinity is formed by atriquetra intertwined with a circle.
The triqueter is present in the paganism of the Celtic and Germanic populations. The disk which interlaces it can then be described as solar.
This pattern was Christianized to facilitate the appropriation of the concept of Trinity. It is now found in the modern paganism movement.
You might also like
Regular price
€10.00
-25%
Price
€7.50
Regular price
€10.00
-25%
Price
€7.50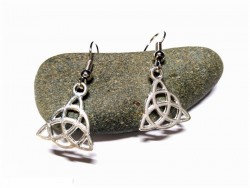 Regular price
€7.50
-33.33%
Price
€5.00