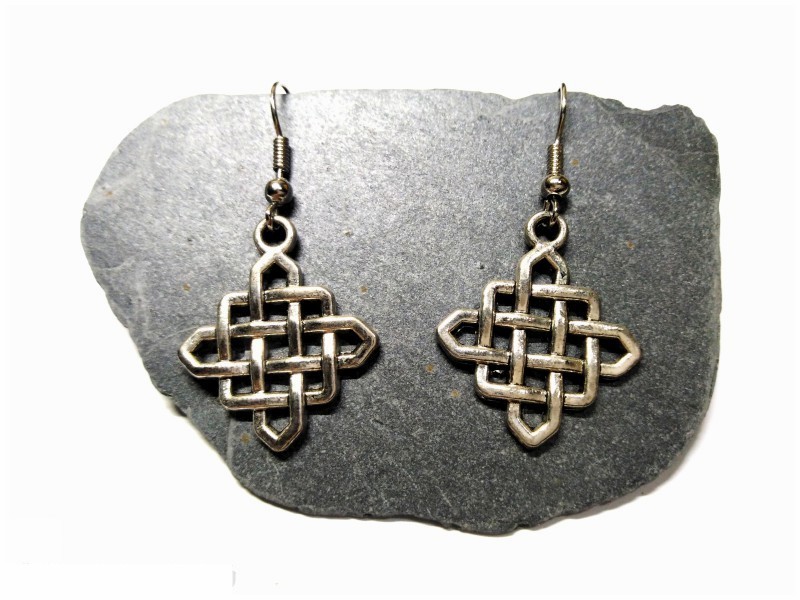  
Knotworks cross - Silver Earrings
Silver Earrings, silver Knotworks cross pendant
Silver Earrings, silver Knotworks cross pendant
Necklace: Length: 17 mm (distance between the hole of the ear and that of the pendant)
Material: plated alloy
Color: Silver
Mid-length, the hook loops adapt to any type of face and hairstyle and combine with pendants of all sizes.
For your comfort and safety, La Blanche Hermine offers you a pair of rubber stopper tips.

Pattern: Knotworks cross
Material: alloy
Size: 22x25 mm
Pattern color: silver
Knotworks appeared in ancient Rome, as can be seen in some mosaics. They were thereafter used by the Byzantines then the Copts, in particular in the illuminated parchments, then particularly developed in the British Isles where the scriptoriums of the monasteries were mainly held by Irish, as for this example of illustration resulting from the Book of Kells. And it is from this moment that the knotworks are associated with Celtic art, even if we find them in Viking, Merovingian and Carolingian art.
The object of knotworks is the ornamentation of bands, generally long and narrow surfaces, in separation or at the edge.
Data sheet
Item

Earrings

Earrings

Hook with pendant

Material 1

Plated (iron) alloy

Color 1

Silver

Pendant

Metal charm(s)

Material 2

Plated (zinc/copper) alloy

Color 2

Silver

Pattern

Celtic : Knotworks
You might also like
Regular price
€7.50
-33.33%
Price
€5.00